ABOUT
A new style of plastic working technologies
High-speed and high-accuracy plastic working
technologies and advanced welding technologies
Plastic working technologies that shape metal into the desired shape by applying pressure require a shorter working time and less material loss compared to other metal working methods such as grinding and forging. As a result, they can be described as low-cost and environmentally-friendly working methods. However extremely advanced techniques and the experience of a seasoned engineer are required in order to obtain high accuracy with this working method. ISEL bending roll machine systems incorporate new working methods and original technologies that were created by bringing together the plastic working technologies that we have developed over many years, and by applying vast amounts of collected feedback data. These systems allow the customers to easily achieve this kind of high-precision plastic working that ordinarily require manual work by an expert.Customers should feel free to send us their requests, such as using machines to automate manual plastic working lines, or further improving accuracy. ISEL machines will act as experienced engineers and be a powerful strength for our customers.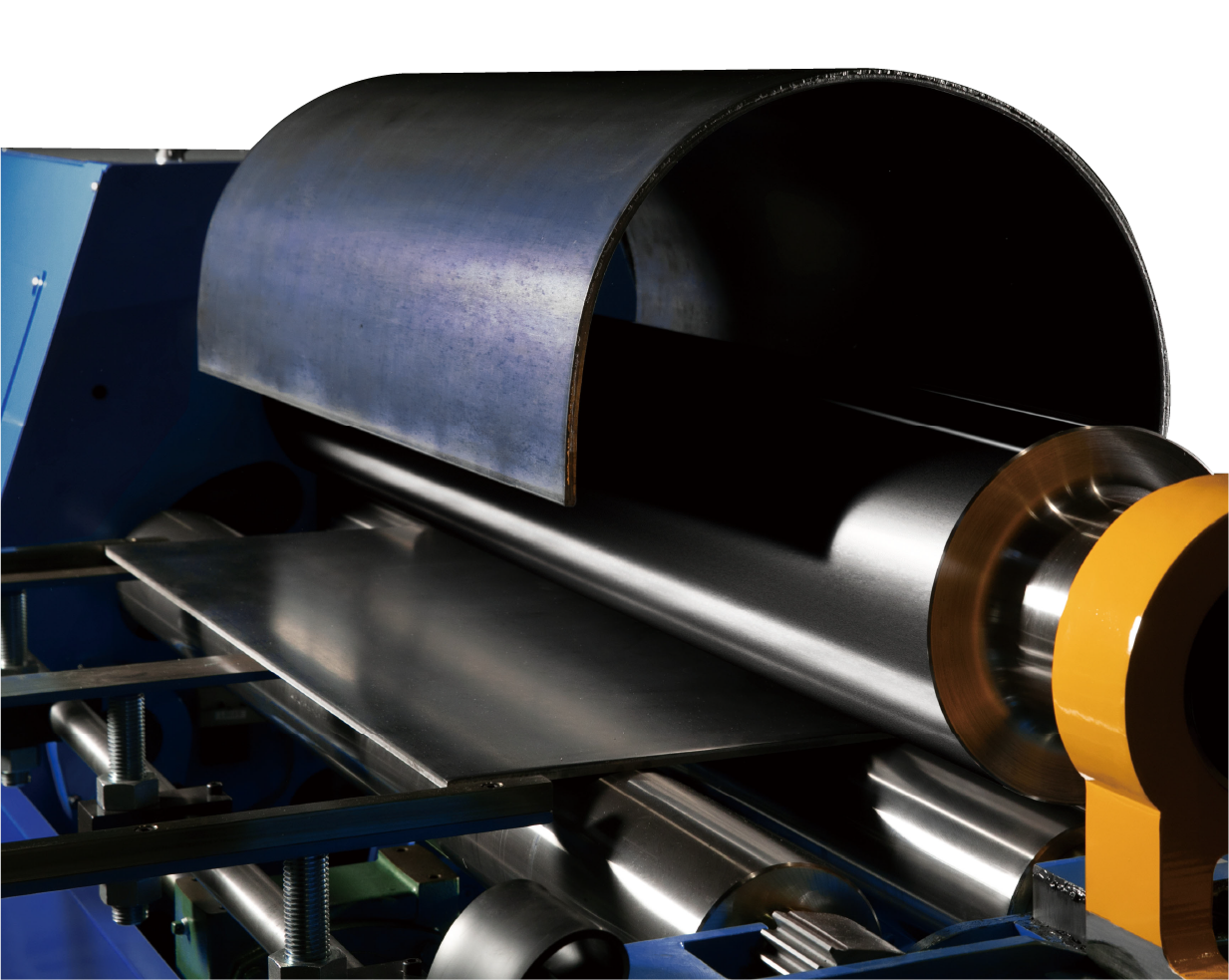 THE PRODUCT FEATURES
1.

Universality

The use of a left-right synchronization mechanism and backup roll prevents loss of balance and prevents trumpet-shape,drum-shape, and other workpiece deformation. This allows roll forming with consistent quality that can be performed by anyone and does not require expert techniques.
2.

High quality

ISEL bending roll machines include quenching and grinding of all shafts, and during working, the upper and lower roll shafts are operated so that they do not slip and produce high-quality products without scratching workpieces.
3.

Productivity

A lineup of welding machines and a wide range of secondary processing machines are also available, providing not only improvements in productivity with automated lines for roll forming → welding → secondary processing, but also solutions to manpower deficiencies and cost reductions.
The following is a selection of products from
the Bending roll series that have been well received,
and their product features and development stories will be introduced.
PICK UP
BS-B PAT.
With four roll shafts, the BS-B is capable of bending and cylinder forming in a single process and does not require a press for edge bending. Quenching and grinding is performed of all roll shafts, preventing scratches on stainless steel and aluminum materials. The side rolls fully lock after they rise, providing excellent roundness, while roll balance adjustment prevents trumpet-shape and drum-shape deformation. Setting the numerical values using the dial-type setting meter allows repeated cylinder forming to be easily carried out.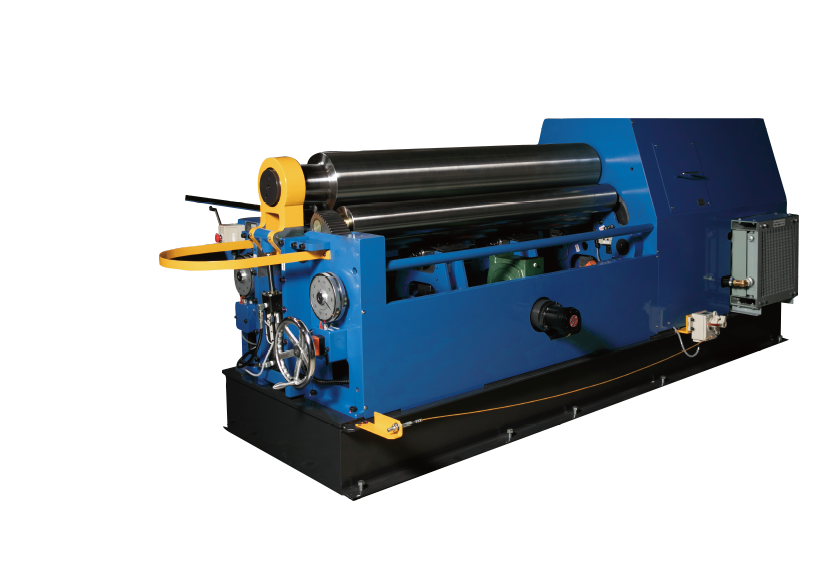 Workimage

Workpiece
PRODUCT STORY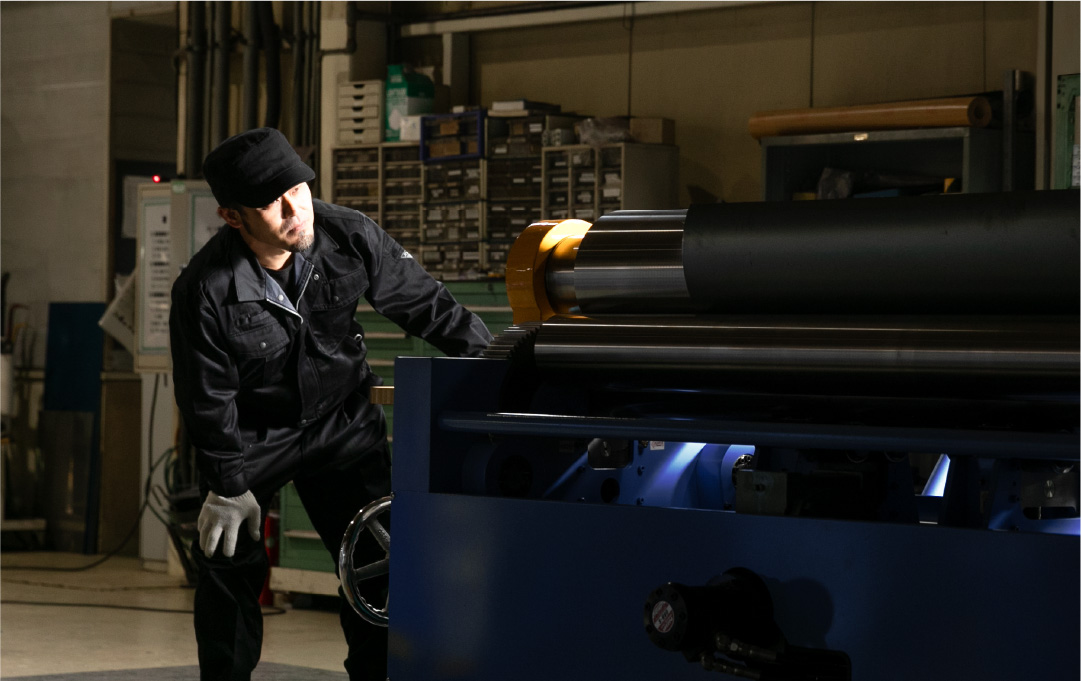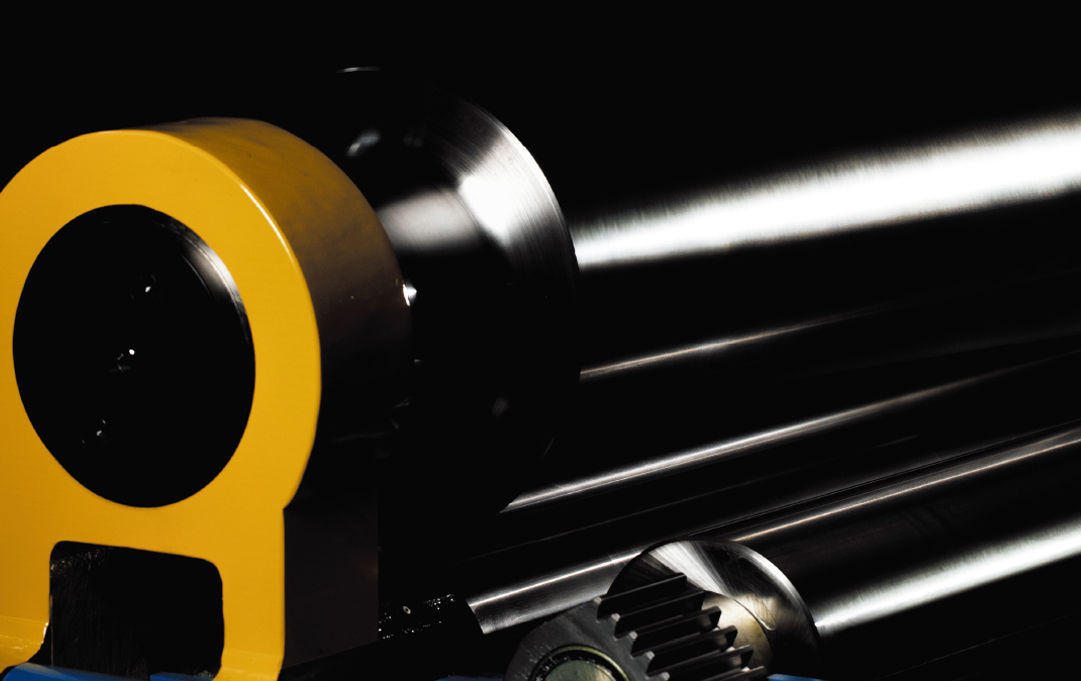 Trust ISEL with all your 4-roll machine needs.
The first to be of service in the industry
The starting point for this development was a discussion about whether it was possible to create a roll machine capable of bending both edges. As there was only one company in Japan at that time offering 4-roll machines, we started development with the aim of being of service to our customers. Little information about 4-roll machines was available, and we had to begin by collecting basic knowledge.
Using machines from overseas manufacturers as reference, we investigated the mechanisms and patent-related matters. We identified the problems with the 4-roll machines at that time and worked to develop a machine that could achieve the best possible straightness of workpiece edges and perform high-precision small-diameter bending of long workpieces. During this development, because at that time there were no friction fasteners which met our performance requirements, we developed our own mechanical locks (Mecha-locks) and couplings to resolve these problems, and later these Mecha-locks and couplings became some of our primary products. After utilizing intelligence and creativity to resolve a large number of issues, we created the BS-B pinching type 4 rolls with original ISEL mechanisms including an edge bending mechanism and a mechanism to prevent trumpet-shape and drum-shape deformation during bending.
Pinching type 4 Rolls


BS-B

PAT.

With four roll shafts, the BS-B is capable of bending and cylinder forming in a single process and does not require a press for edge bending. Quenching and grinding is performed of all roll shafts, preventing scratches on stainless steel and aluminum materials.

Thick Plate 4 Rolls


BS-BH

PAT.

This thick plate 4-roll machine is capable of processing thick plates with thicknesses of 12 – 16 mm. Because it is a 4-roll machine, it can perform all steps from edge bending to cylinder forming in a single process. Because it is an all-hydraulic machine, overload does not occur.

Full Servo 4 Rolls


BS-BM

Quick Bender


BU-S

Urethane Bending Roll


BU-U

Taper Roll Machine


BU-UT

Variable Roll Machine


BVR

Compact High Ability 3 Rolls


BU-SK

Compact 3 Rolls with Edge Bending Mechanism


BU-SP