CATEGORY
PUNCHING
Press related equipment
ABOUT
High-precision punching technologies
designed for high quality and efficiency
that can be used with a wide range of materials
"Our punching machines support a wide range of materials and shapes, including cards, labels, semiconductor films, and sheets. In order to flexibly support the latest combined and composite new materials in addition to conventional printing materials, ISEL meets customer needs with a wide range of expertise related to stamping dies, hollow blades, etching blades, chisel blades, Thomson blades, and other equipment.
In addition to punching technologies such as presses and blades, we also offer automation technologies for processes including automatic loading, transport, and automatic ejection. These allow us to achieve high operating efficiency and production efficiency that lead to lower overall costs. ISEL has created a wide range of mass production machines and special-purpose machines in many different industries, including paper processing, semiconductors, secondary batteries, LCD panels, and automobiles. Therefore, we are able to propose and support machines that meet the advanced needs of each industry."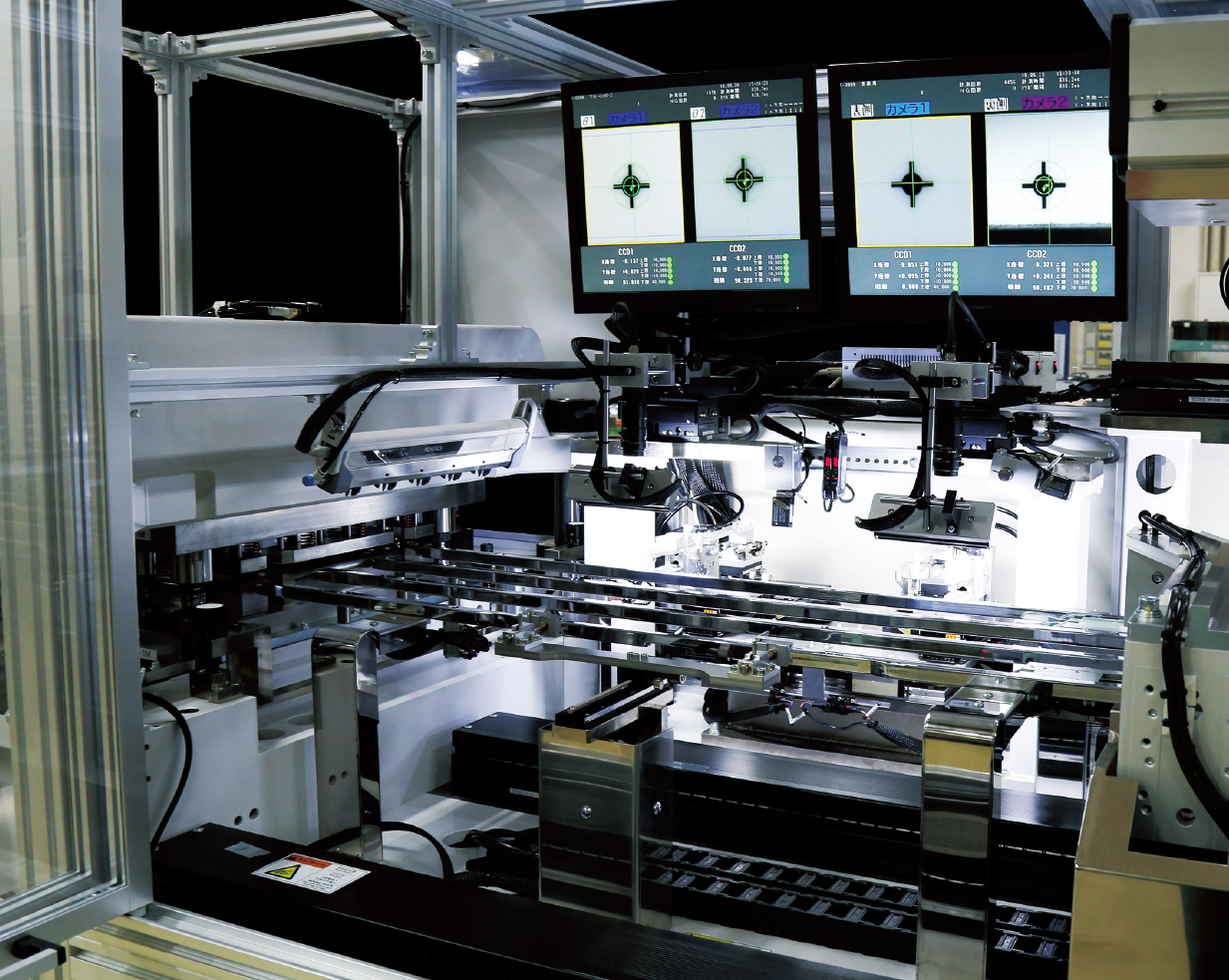 THE PRODUCT FEATURES
1.

High quality

ISEL utilizes its many years of experience and successful results in punching to propose punching systems that are capable of high-quality punching of workpieces that require high punching accuracy, such as machines for IC cards.
2.

Design capabilities

We can help to resolve all kinds of issues related to punching with design capabilities that can meet a variety of conditions and requests related to workpiece materials and shapes, mass production volumes, and other matters.
3.

Productivity

Based on customer requests, we can propose systems that automate all steps including workpiece loading, transport, positioning, punching, and ejection in order to deliver high productivity and labor savings in addition to high quality.
The following is a selection of products from
the Punching machine series that have been well received,
and their product features and development stories will be introduced.
PICK UP
Auto Puncher / APTA-I
These punching systems can perform punching, aligning and ejecting directly from the web roll for products such as in-mold labels, lids for instant noodle containers, tags, films, and various packages. Conventional processes require a large number of steps including cutting the web roll sheet, laminating, aligning, cutting, and punching. By collecting all of this work into a single machine, we can reduce the number of operators, reduce the required space, and carry-out all kinds of labor savings.Image correction control using CCD cameras makes high-quality punching possible.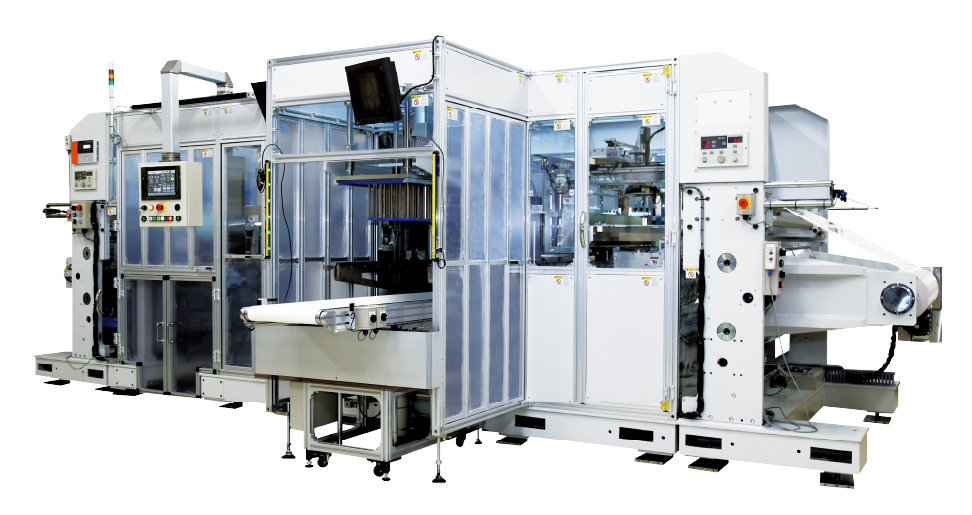 Workpiece ejection conveyor

Capable of punching directly from the web roll
PRODUCT STORY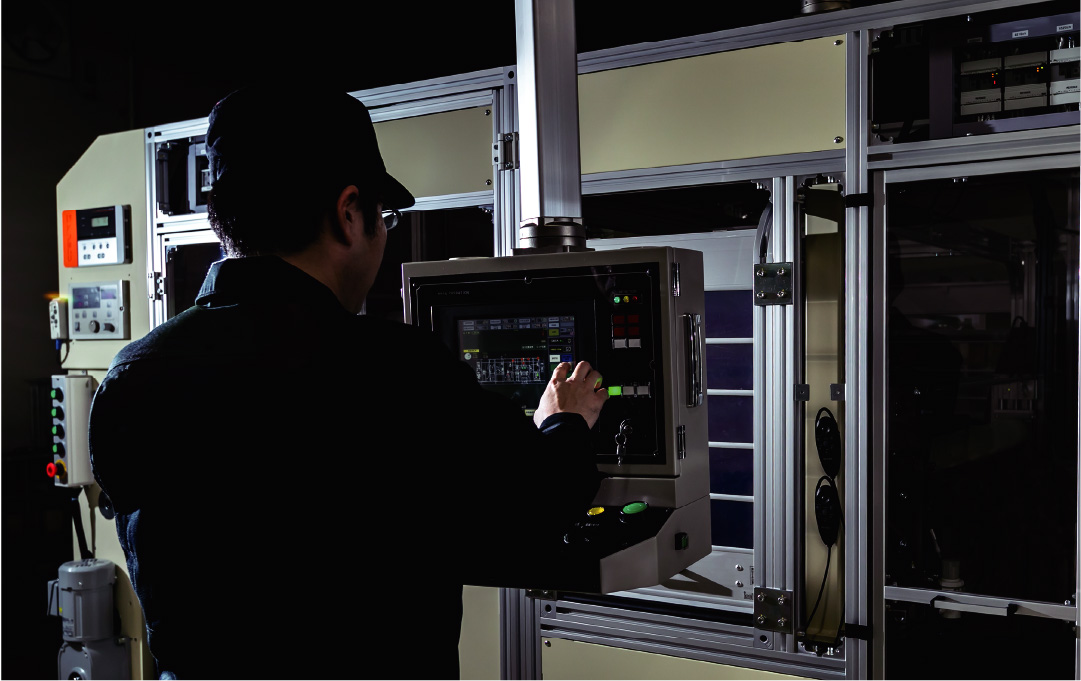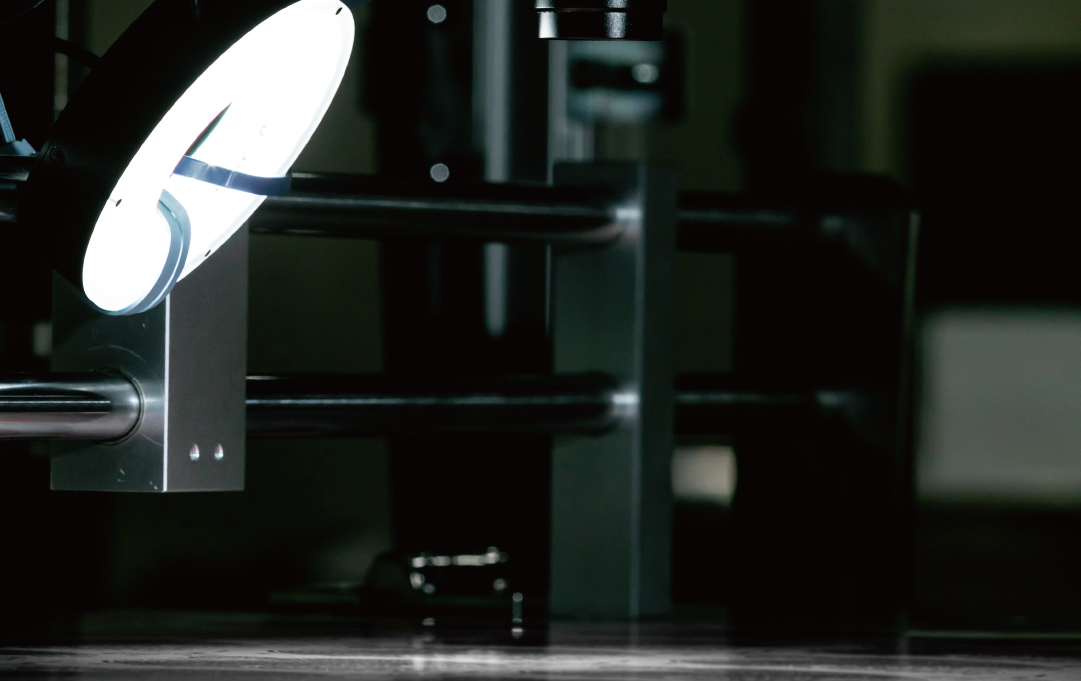 New technologies developed to meet
the need for simplifying
complex manufacturing processes
When manufacturing lids, labels, and other packaging materials, a large number of steps must be performed between printing and completion, requiring human resources and space. Based on customer requests to simplify the processes and reduce the amount of work which requires an operator, several younger engineers added new technologies to an old model which served as the base, and reconfigured it to complete the Auto Puncher.
With conventional processes, the four processes of sheet cutting, paper aligning, cutting, and trimming must each be performed using different equipment. However the Auto Puncher can perform all of these conventional processes with a single machine. This reduces the space required by equipment and improves operating efficiency, making it possible to reduce the number of operators, cut costs, and make other improvements that can resolve a large number of problems which plants face.
Auto Puncher


APTA-I

These punching systems can perform punching, aligning and ejecting directly from the web roll for products such as in-mold labels, lids for instant noodle containers, tags, films, and various packages. Image correction control using CCD cameras makes high-quality punching possible.

Fine Press


FP-Ⅲ

High-speed precision die-cutting of various semiconductor-related materials such as BGA, CSP, TAB film, and aluminum foil using a roll-to-roll method with a precision feed mechanism. This is the flagship model that can also handle wide films.

Label Trimmer


K-200T / 270N

Label Trimmer


S-150 / 200

Roll To Sheet Puncher


RS300

Sensor Film Puncher


SFP-500

Card Puncher


CCP・E-S-4Aθ

Card Puncher


CPXY-S-3Aθ

OCA puncher


OFH-500

Panel puncher


FC50/60/80,FX50/60/80

Envelope Puncher


IEM-25/30

Bookbinding Cutter


ST-IS

Hybrid Laser Processing Machine


TOGLIO HYBRID

Laser Printing Machine


LPM Series